Amazon Hos
e & Rubber Company is a leading distributor of Continental ContiTech hydraulic and industrial products in the Southeast. One of the great benefits of partnering with Continental is their dedication to leading-edge technology and safety for crimping hose and fittings. ContiTech has one of the best app's for hydraulic crimp specs in the market.
The MyCrimp mobile app, by ContiTech, provides users with the most up-to-date specifications to properly crimp ContiTech hydraulic hose and fittings. Users can search by hose style, coupling style, hose size and crimper capability. The app is user-friendly and contains all the information required to setup and safely crimp the desired assembly.
MyCrimp – ContiTech Crimp Specs
Found below are some screen shot examples of how simple it is to use their mobile app: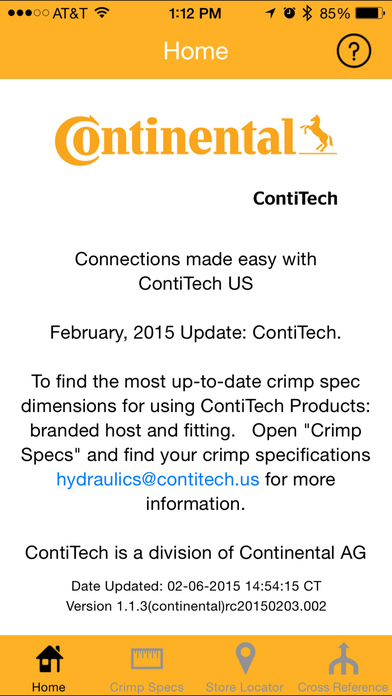 As demonstrated in the above screen shots, this app works for a variety of adjustable crimpers currently in the field, as well as, the Continental ContiTech crimper model PC150H (shown above). This crimper is the work horse for Amazon Hose & Rubber Company's hydraulic hose assembly technicians. This crimper can also be setup for production work or one-off hose assemblies for replacement and maintenance.
Features of the PC150H:
Easy-to-read micrometer provides precise crimp settings
Hose feed is horizontal from both front and rear
Easy die loading with magnetic die change tool
Max die size 56mm
155-ton crimping force
Automatic shutoff for precise crimps
Retraction stop limits die travel for faster repetitive crimps
Large 13-quart oil reservoir to cool components during repetitive crimps
Pneumatic activation using remote pendant switch
1 HP and 2 HP power options
Capability of the PC150H: 1/4″ through 1½" ID, 2-braid hose and 4-spiral hose with all coupling styles and most bent tubes.
Continental ContiTech has a complete line of crimpers to suit a variety of hydraulic hose requirements. In addition to the PC150H, Continental has the following crimpers available:
What comes with your crimper?
• Crimper & Product Training
• Laminated Crimp Charts
• MyCrimp – Smart Phone App
• Operators Manual
• Technical Support
For more information on Continental ContiTech's MyCrimp App or if interested in a crimp machine, please contact one of our Hose Specialist at Amazon Hose & Rubber Company at (800) 506-5514. You can also visit our website at www.AmazonHose.com!